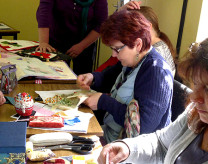 About the centre
C.A.M.E. has been in existence since 1986 and is situated in the heart of Clondalkin village at the rere of the VEC building on Monastery Road. Our committee is a voluntary one consisting of twelve ladies. We provide morning (and some evening) classes for adults, as well as Workshops.
Course information & Enrolments
Morning classes from 10am to 12noon with 15min tea break, evening classes from 7pm to 8.30pm. Two courses from January to June, one 8-week course up to Easter, and a second term after Easter of 6-week duration.
No Parking At Centre (Pay & Park Nearby)
Next Enrolments:
ENROLMENTS Monday 8th to Friday 12th January 10am -12noon
Evening Classes Enrol Monday 8th January 7-8pm
Classes start Monday 22nd January 2018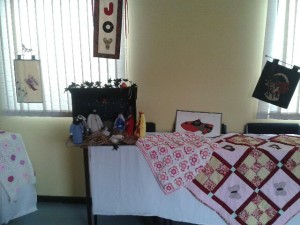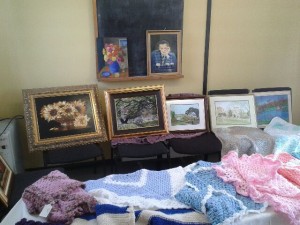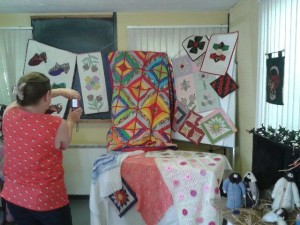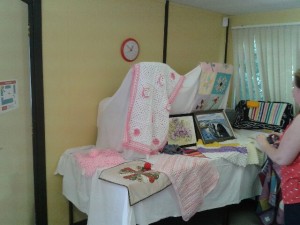 ---
Some finished works from our students.
Course Title
Week
Time
Price
Location

Hairdressing Bootcamp (NEW CLASS)

Master Braiding techniques/easy Up-Styles/Curling/ Straightening/Blow Drying and Red Carpet Waves (taught by an experienced & practising Hair Stylist) CLASS STARTS MONDAY 29TH JANUARY

8
10 am - 12 noon
€60
Clondalkin

Spanish (Native Spanish Tutor)

Spanish class for Beginners/Improvers. Native Spanish Tutor

8
10am - 12noon
€60
Clondalkin

Dance/Exercise Class

[Evening Class] Enjoy a combination of Dance (Salsa, Waltz, Cha Cha, Line Dance & much more), plus some gentle exercise.

8
7pm - 8.30pm
€68
Clondalkin
Course Title
Week
Time
Price
Location

Pilates

2 CLASSES. Stott Pilates suitable for all ages and fitness levels, helps promote strength and flexibility, helps address problem areas – back/hips etc. Promotes relaxation and helps with stress. A gentle effective form of exercise. (Qualified Stott Instructor)

8
11am - 12pm & 12.05 - 1.05pm
€44
Clondalkin

Art

For beginners and those wishing to make progress

8
10am - 12 noon
€60
Clondalkin

Gardening for All Seasons

Create that urban oasis, with professional guidance in all aspects of gardening. (This class will start Tuesday 6th March for 4 weeks)

4
10am - 12pm
€30
Clondalkin
Course Title
Week
Time
Price
Location

Yoga for Improvers

[Evening Class] Experience the gentle approach to life with yoga.

8
7 - 8.30 pm
€68
Clondalkin

Yoga

Experience the gentle approach to life with Yoga.

8
11am - 12.30
€60
Clondalkin

Craft Circle

Exchange ideas and enjoy sewing/crochet/knitting etc. in good company.

8
10am - 12noon
€40
Clondalkin

History

Irish History from 400AD to INDEPENDENCE (details available)

8
10am - 12noon
€60
Clondalkin
Course Title
Week
Time
Price
Location

Spanish for BEGINNERS (Native Speaker)

[Evening Class] With Native Speaker

8
7.30 - 9.30 pm
€68
Clondalkin

Mindfulness (with a difference)

[Evening Class] Feeling stressed, anxious or worried what might or might not happen in the future? Do you want to make positive changes in your life; be in control of how you respond to life's challenges? If YES then come along and explore various techniques to enhance your quality of life and bring a degree of contentment to your inner being

8
7.30 - 9.00PM
€68
Clondalkin

Knit & Natter

[Evening Class] Bring along your needlework and exchange ideas in a friendly and informal atmosphere. €3 per night.

8
7.30 - 9.30 pm
€24
Clondalkin

Art

For beginners and those wishing to make progress.

8
10am - 12 noon
€60
Clondalkin

Sewing

Learn how to make a garment from start to finish. How to use and maintain your sewing machine, and much more.

8
10am - 12 noon
€60
Clondalkin
Course Title
Week
Time
Price
Location

Patchwork/Quilting

Enjoy learning the art of Patchwork/Quilting Suitable for Beginners or Improvers (materials NOT included)

8
10am - 12 noon
€60
Clondalkin

Spanish

For IMPROVERS (Native Spanish Tutor

8
10am - 12noon
€60
Clondalkin