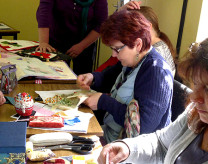 About the centre
C.A.M.E. has been in existence since 1986 and is situated in the heart of Clondalkin village at the rere of the VEC building on Monastery Road. Our committee is a voluntary one consisting of twelve ladies. We provide morning (and some evening) classes for adults, as well as Workshops.
Course information & Enrolments
Morning classes from 10am to 12noon with 15min tea break, evening classes from 7pm to 8.30pm.
No Parking At Centre (Pay & Park Nearby)
Next Enrolments:
Monday 16th – Friday 20th September 2019 10am – 12noon
(Enrolments for morning AND evening classes)
Classes commence Monday 30th September 2019
Mid-term break: Mon 28th October – Friday 1st November 2019
Term ends Friday 29th November 2019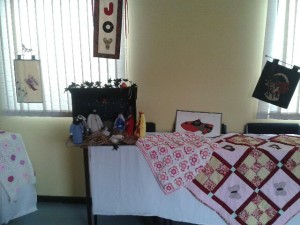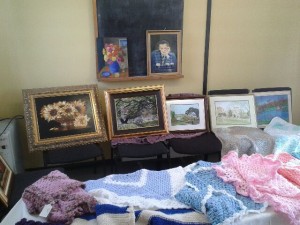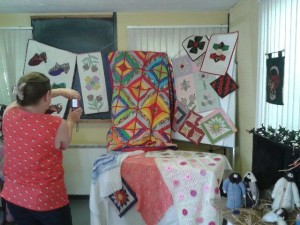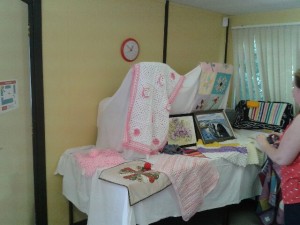 ---
Some finished works from our students.
Course Title
Week
Time
Price
Location

Natural Health at Home

If you want a natural, safe, effective, non- toxic way to good health take the first step on your journey to self-care and wellbeing. Learn some gentle Qi Gong movements, few kitchen medicine recipes and the use of simple homeopathic remedies. Learn to read some body signs and even have a chance to experience a sound bath.

8
10am - 12 noon
€60
Clondalkin

Sewing

Learn how to make a garment from start to finish; how to use your machine and much more.

8
10am - 12 noon
€60
Clondalkin
Course Title
Week
Time
Price
Location

Pilates

2 CLASSES. Stott Pilates suitable for all ages and fitness levels, helps promote strength and flexibility, helps address problem areas – back/hips etc. Promotes relaxation and helps with stress. A gentle effective form of exercise. (Qualified Stott Instructor)

8
11 - 12 noon & 12.05 - 1.05pm
€44
Clondalkin

Art

For beginners and improvers

8
10am - 12 noon
€60
Clondalkin

Gardening for All Seasons

Class starts: Tuesday 22nd October. Create that urban oasis, with professional guidance in all aspects of gardening.

6
10am - 12 noon
€45
Clondalkin
Course Title
Week
Time
Price
Location

Yoga

Experience the gentle approach to life with Yoga.

8
10.30am - 12 noon
€60
Clondalkin

Craft Circle

Bring along your sewing/crochet/knitting etc. and exchange ideas/patterns in a friendly atmosphere.

8
10am - 12 noon
€40
Clondalkin
Course Title
Week
Time
Price
Location

Knit & Natter

[Evening Class] Bring along your needlework and exchange ideas in a friendly and informal atmosphere. €3 per night.

8
7.30 - 9.30 pm
€30
Clondalkin

Art

For beginners and improvers.

8
10am - 12 noon
€60
Clondalkin

History

A history of democracy from Classical Greece to the French Revolution

8
10am - 12noon
€60
Clondalkin
Course Title
Week
Time
Price
Location

Spanish

Spanish for improvers (native Spanish tutor)

8
10am - 12noon
€60
Clondalkin

Spanish for Beginners

Spanish for beginners with native Spanish tutor

8
12 - 2.00pm
€60
Clondalkin

Patchwork/Quilting

Enjoy learning the art of Patchwork/Quilting Suitable for Beginners or Improvers (materials NOT included)

8
10am - 12 noon
€60
Clondalkin