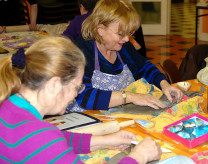 AUTUMN 2023 ENROLMENT
Kilternan Adult Education will RE-OPEN for Classes on Monday, 25th September, 2023.
Enrolling ONLINE will commence on Monday, 11th September, 2023 at 10 a.m.
Click here to enrol online >>>
Using the above link select "All Classes" and scroll to your
preferred choice. If your class is full, please click on "Waiting List" and if a place becomes available we will contact you.
Fee: 1.5 Hour Class €70, 2 Hour Class €90
Term: 10 weeks
Mid term break: Monday 30th October – Friday, 3rd November, 2023
All classes commence Monday, 25th September, 2023
About the centre
Kilternan Adult Education is run by a  voluntary committee that works to provide lifelong learning opportunities in a welcoming friendly environment.
Course Title
Week
Time
Price
Location

Photography – Improvers continued with Elma Murray

Develop more in-depth technical and creative knowledge and explore specific genres of photography further. Numerous field trips included.

10
9.30 - 11.00am
€70
Kilternan

Watercolours with Naomi Peppard

Immerse yourself in a class of Watercolour Painting with Naomi. You will experience a variety of techniques and approaches through Monday continued her demonstrations. She will guide you to explore your own path, to produce finished works of art.

10
9:20 - 11:20am
€90
Kilternan

Restorative Yoga 1 with Helen Morrow

Learning to bring ease to mind and body by using breathing, relaxation, and simple meditation techniques. It increases strength and flexibility through adapting yoga postures to match the student's level.

10
9.30 - 11.00am
€70
Kilternan

Restorative Yoga 2 with Helen Morrow

Learning to bring ease to mind and body by using breathing, relaxation, and simple meditation techniques. It increases strength and flexibility through adapting yoga postures to match the student's level.

10
11.30am - 1pm
€70
Kilternan

Photography – Beginners again with Elma Murray

For Beginners or those who have maybe done a photography class before and want to become familiar with all the basic camera functions, learn to take more creative photos and have some fun with the camera. Upload and edit photos on the computer. Numerous field trips included.

10
11.30 - 1.00 p.m.
€70
Kilternan

Oils/Acrylics with Naomi Peppard

Immerse yourself in a class of Oil Painting with Naomi. Explore composition perspective, colour mixing and a variety of techniques. She will guide you on your own path to produce finished works of art.

10
11.40 - 1.40 p.m
€90
Kilternan
Course Title
Week
Time
Price
Location

Restorative Yoga 3 with Helen Morrow

Restorative Yoga – learning to bring ease to mind and body by using breathing, relaxation and simple meditation techniques. It increases strength and flexibility through adapting yoga postures to match the student's level.

10
10.00 - 11.30am
€70
Kilternan
Course Title
Week
Time
Price
Location

Crochet with Audrey Cremin

All levels catered for, from beginners to advanced.

10
10am - 12 noon
€90
Kilternan

Enjoying English with Carol O'Kelly

Fall back in love with reading this Autumn. We'll be enjoying books, poems, short stories and written English in all its wonderful formats together. Come and let's dive into modern fiction, the classics, descriptions and characters – let's revel in the use of words and stories!

10
10am - 12 noon
€90
Kilternan

Irish Conversation with Mary Fitzgerald

A fun class for everyone who would like to have a simple conversation in Irish

10
11:00am - 1:00pm
€90
Kilternan
Course Title
Week
Time
Price
Location

Painting with Fergal Flanagan

This course is designed for Artists to help them develop their skills in composition, colour, tone and perspective. Mainly oils but all mediums are acceptable, with Fergal Flanagan

10
9.30 - 11.30am
€90
Kilternan

Painting for Pleasure with Jimmy Burns

Art for All is the only way to run away, without leaving home.

10
12 noon - 2pm
€90
Kilternan

Genealogy with Maire MacConghail

Genealogy Course to assist you with Progressing/Developing your Family History research skills.

10
10am - 12 noon
€90
Kilternan
Course Title
Week
Time
Price
Location

Gardening with Deirdre Crofts

Gardening for everyone.

10
10am - 12 noon
€90
Kilternan

Advanced Watercolours with Olivia Hayes

This is an advanced watercolours class.

10
10am - 12 noon
€90
Kilternan

Beginners Bridge with Brideen Downes

Come and learn this fascinating game.

10
10:30am - 12:30pm
€90
Kilternan