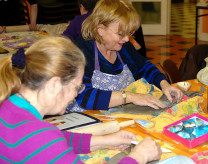 About the centre
Kilternan Adult Education is run by a  voluntary committee that work to provide lifelong learning opportunities in a welcoming friendly environment.
Course information
Over 30 courses are offered in Kilternan Adult Education Centre per term. The Centre offers a combination of Morning and Evening courses, covering a broad range of areas, including: Art, Book Club, Computers, Creative Writing, Crochet, Enjoying English, Fit & Healthy for Life, Gardening, Genealogy, Golf, Guitar, History of Art, Music Appreciation, Nordic Walking, Photography, Photography and Picasa, Sewing Machine Class, Social Media, Yoga.
ENROLMENT:
Saturday 11th – Wednesday 15th January 2020
SATURDAY:          10.00 a.m.  –  12.00 p.m.
MONDAY:              9.30 a.m.  – 11.30 a.m.
TUESDAY:             9.30 a.m.  – 11.30 a.m.
WEDNESDAY:      9.30 a.m.  –  11.30 a.m.
Classes Commence: Monday 27th January, 2020
Course Title
Week
Time
Price
Location

Photography 1 (101)

With Elma Murray. For those who want to build further on their knowledge of basic camera settings. Visit to Gallery of Photography and some specific field trips included.

10
9.30 - 11.30am
€143
Kilternan

Photography 2 (102)

With Elma Murray. Develop more in-depth technical knowledge and explore specific genres of photography further. Numerous field trips included.

10
12 - 2pm
€143
Kilternan

Art 1 – Oils/Acrylics (103)

Noel Long

10
9.30 - 11.30am
€143
Kilternan

Art 2 – Watercolours (104)

Noel Long

10
12 - 2pm
€143
Kilternan

Yoga 1 – Improvers/Mixed Ability (105)

Helen Morrow. Stress Management through yoga, stretching, breathing, relaxation and meditation techniques.

10
9.30 - 11.00am
€105
Kilternan

Yoga 2 – Beginners/Improvers (106)

Helen Morrow. Stress Management through yoga, stretching, breathing, relaxation and meditation techniques.

10
11.15am - 12.45pm
€105
Kilternan
Course Title
Week
Time
Price
Location

Word Processing, File Management, Excel (201)

With Miriam McGuirk. BCreate and edit detailed documents with Word. Create and edit spreadsheets using Excel. Create folders and organise your files, upload photos to email, copy to memory stick/CD. (Basic knowledge of computers desirable)

10
9.30 - 11.30am
€143
Kilternan

Yoga 3 – Experienced (202)

Helen Morrow. Stress Management through yoga, stretching, breathing, relaxation and meditation techniques.

10
9.30 - 11.00am
€105
Kilternan

Yoga 4 – Beginners/Improvers (203)

Helen Morrow. Stress Management through yoga, stretching, breathing, relaxation and meditation techniques.

10
11.15am - 12.45pm
€105
Kilternan

The Autumn Garden (204)

With Noreen Curran. Advice on plants, shrubs, lawns and answers to your gardening queries. Includes two garden visits.

10
9.30 - 11.30am
€143
Kilternan

Beginners Garden Course (205)

Noreen Curran. This course is aimed to give an understanding of creating and maintaining a healthy garden. Includes two garden visits.

10
11.45am - 1.45pm
€143
Kilternan

History of Art – Art in Ireland [NEW] (206)

With Tony Suttle. This ten-session class will introduce participants to the development of Art in Ireland over two millennia. It will start with the "Golden" period of Celtic Art such as the Tara Brooch and illustrated manuscripts. It will then consider the influences of colonialism on art in Ireland and the subsequent development of Modernism in today's independent Ireland. Using PowerPoint presentations, and discussion, the class will look at painting, sculpture and architecture. There will be a gallery visit during the term.

10
11.45am - 1.45pm
€143
Kilternan

Young at Heart [NEW] (207)

With Dex McGloughlin. An exercise class based on dance movements to popular tunes. Exercise from head (including your brain) to toe with moves devised specially to exercise all parts of your body. Put a pep in your step and a smile on your face. Suitable for all ages. No previous experience necessary.

10
1 - 2 pm
€85
Kilternan
Course Title
Week
Time
Price
Location

Art 3 – Oils/Acrylics (302)

With Naomi Peppard

10
9.30 - 11.30am
€143
Kilternan

Creative Writing (303)

Discover that book or poem you always wanted to write. Creative classes in a fun atmosphere.

10
9.30 - 11.30am
€143
Kilternan

Enjoying English (304)

Phil Dunne. In this course we will explore aspects of the novel, short story, drama, poetry and journalism. No prior knowledge of English Literature required

10
12 - 2pm
€143
Kilternan

Genealogy 1 (305)

Máire MacConghail. Beginners class: enjoy learning how to research your family history - a practical hands-on course.

10
12 - 2pm
€143
Kilternan

Introduction to Watercolours (306)

With Olivia Hayes. Suitable for beginners.

10
11.45 am – 1.45 pm
€143
Kilternan
Course Title
Week
Time
Price
Location

Art 4 – Painting for Pleasure (402)

With Jimmy Burns. Art for All - with a dollop of music and a splash of History

10
9.30 - 11.30am
€143
Kilternan

Art 5 – Painting for Pleasure (403)

Jimmy Burns. Art for All. with a dollop of music and a splash of History

10
11.45am - 1.45pm
€143
Kilternan

Crochet (404)

Audrey Cremin. Continue to build on existing skills and advanced techniques to make your own creations.

10
9.30 - 11.30am
€143
Kilternan

Crochet – Beginners (405)

Audrey Cremin. Learn to follow a pattern and create many interesting small items.

10
12 - 2PM
€143
Kilternan

Genealogy 2 (406)

Máire MacConghail. Continuation course : with a beginners course completed, this course brings you along the path to further explore family and local history.

10
12 - 2pm
€143
Kilternan

Art 6 – Watercolours – Advanced (407)

Olivia Hayes – Advanced Only. This course is for artists with experience in a wide range of watercolour techniques.

10
2.10 - 4.10pm
€143
Kilternan

Photography 3 – Beginners (408)

Become familiar with all basic camera functions and learn to take more creative photos. Upload and edit photos on your computer. Some field trips included.

10
2.10 - 4.10pm
€143
Kilternan
Course Title
Week
Time
Price
Location

Art 7 – Watercolours (501)

Watercolours

10
9.30 - 11.30 am
€143
Kilternan

Art 8 – Watercolours Advanced (502)

Olivia Hayes – Advanced Only. This course is for artists with experience in a wide range of watercolour techniques.

10
9.30 - 11.30am
€143
Kilternan

Tablets, Computer and Smart Phone Basics with an Emphasis on Social Networking (503)

With Stephen Matthews. A light hearted class in which we will 'network' with each other before reaching out to the wider world!

10
9.30 - 11.30am
€143
Kilternan

T'ai Chi (504)

With Trish McNally. T'ai Chi is a graceful series of set movements, a discipline for mind and body which can help alleviate many ailments. An exercise for health and wellbeing. Great for balance and flexibility. Suitable for people of all ages.

10
12 - 1pm
€85
Kilternan

Basic Sewing Machine Class (505)

With Katie Holland. Learn to use a sewing machine, cut and sew fabric accurately. Complete a small project e.g. bag, blanket, cushions. Beginners Welcome.

10
12 - 2pm
€143
Kilternan

Book Club Monthly (506)

2nd Friday

5
2 - 3.30pm
€0
Kilternan