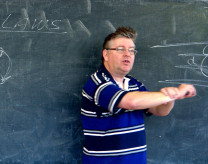 About TACT
TACT, Tallaght Adult Community Training, is a morning education group running for the
past 30 years, currently based in St Dominic's National School.
TACT was established in 1981, formed by Fred Gulding and a group of local women. Fred
was an Adult Education Office with the VEC for Tallaght and was tasked with providing
adult education in the community. Number one priority was that the facility need to include
a creche, as there was a lot of young families in the area. At this time Tallaght was growing
with the addition of new housing estates being build.
TACT's aim was to provide accessible, affordable adult education with excellent creche
facilities all in the one building, providing a real sense of community in a fun, friendly
environment.
Today TACT still provides these excellent facilities, along with a great coffee room with free
WiFi, variety of excellent broad range of classes and creche at only €5.
We run 25 classes a week, for 25 weeks of the year, to all ages and walks of life ,
everything from Tai Chi, Pilates, Yoga, Art Appreciation (run in conjunction with the
National Gallery of Ireland), Art for Beginners and Improvers, Ceramics, Dancing also for
Beginners & improvers, Bridge, Book Club.
TACT morning courses – January 2018
Enrolling:Wed 17th – Tues 23rd January 2018. 10am – 12 noon
Classes Begin Mon 29th January 2018
Enquiries from 8th January 2018
Come early as classes fill up fast. First come, first served.
Course Title
Week
Time
Price
Location

Stott Pilates

Improves flexability and stregthens the whole body, relieves stress and back pain, suitable for all ages and fitness levels

10
1.30 - 2.30
€60
Tallaght

Art QQI Level 5 – Painting

This course is open to all levels. Some ability or experience in art recommended. Students produce a portfolio during the year for assessment, leading to a level 5 Q.Q.I. certificate. It consists of 6 hours a week. This course is a B.T.E.I: it is free to (a) all who have not completed the Leaving Certificate Course and (b) all who have a medical card.

14
9.30am - 3.30pm
€0
Tallaght

Stott Pilates

Improves flexibility and strengthens the whole body, relieves stress and back pain, suitable for all ages and fitness levels

10
12.05 - 1.05pm
€60
Tallaght

Stott Pilates

Improves flexibility and strengthens the whole body, relieves stress and back pain, suitable for all ages and fitness levels

10
11am - 12pm
€60
Tallaght

Tai Chi

Chinese art of meditation in movement

10
9.45 - 10.45am
€65
Tallaght
Course Title
Week
Time
Price
Location

Irish History – The relationship between the Irish and their Land

The Plantations. The Famine. Cleansing of the land. The Land War.Restoration and end of the Anglo Irish big houses.

10
10 - 12pm
€90
Tallaght

Yoga – for beginners

For beginners.

10
11.15am - 12.30pm
€70
Tallaght

Yoga – beginners and improvers

For beginners and improvers.

10
9.45 - 11.00am
€70
Tallaght
Course Title
Week
Time
Price
Location

Yoga – Beginners

for beginners

10
10 - 11.15
€70
Tallaght

Tai Chi – Beginners

For beginners.

10
11.30am - 12.30pm
€65
Tallaght

Art – Improvers

For Improvers

10
11.05am - 1.05pm
€90
Tallaght

Art – Beginners

For beginners.

10
9.30 - 11.00am
€75
Tallaght
Course Title
Week
Time
Price
Location

Bridge – Improvers

with Maura O'Keeffe - the author of "Bridge made simple"

10
10am - 12.30pm
€110
Tallaght

Dancing – Improvers 1

Ballroom & Latin American Dance. Learn how to waltz, cha-cha, jive etc with Michelle Alonzi

10
10.00 - 11.00am
€55
Tallaght

Dancing – Improvers 2

Ballroom & Latin American Dance. Learn how to waltz, cha-cha, jive etc with Michelle Alonzi

10
11 - 12am
€55
Tallaght
Course Title
Week
Time
Price
Location

Stott Pilates

beginners and improvers

10
12.05 - 1.05pm
€60
Tallaght

Stott Pilates

beginners and improvers

10
11am - 12pm
€60
Tallaght