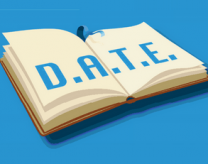 About D.A.T.E.
D.A.T.E. has been providing Adult Education courses in Dundrum since 1984. We are a voluntary committee who work with Dublin and Dun Laoghaire Education and Training Board to bring a wide variety of classes including, French, Spanish, several Art classes, Philosophy, Tai Chi, Bridge, Yoga, Creative Writing, Gaeilge and Mindfulness.
Classes are held on the 5th floor of Dundrum Town Centre in a friendly and inclusive atmosphere. We have a cheerful tea room where students and tutors can meet up between classes. Because of a shortage of space, some of our classes are held in Dom Marmion Hall on Sandyford Road.
Enrolling for Spring 2020
Half of the available places on D.A.T.E. courses will be available for online enrolling from:
Monday 6th January at 10am and will run continuously until 10am on Thursday 9th January.
D.A.T.E. does not operate a waiting list for online enrolling.
Remaining places may be booked in DATE from Monday 13th to Friday 17th January 9.30am – 12 noon daily.
Please note if enrolling in person for classes you must attend on the relevant day, i.e. if enrolling for a Monday class please come along on Monday 13th January, for a Tuesday class come on Tuesday 14th January and so on throughout the week.
All classes 12 weeks, Fee €128. Seniors (66+) €70 on the production of travel pass.
Credit Cards/Debit Cards only accepted. Fees will be refunded if the class does not form due to the required minimum number of students.
DATE Bridge Club
Dom Marmion Centre, Sandyford Road.
Wednesday: 10.00am – 12.30pm. €6.00 per morning.
Course Title
Week
Time
Price
Location

French 6 (Contd) (M1)

French art, culture, gastronomy, literature, grammar and conversation. With Teresa Flynn

12
9.30a.m.
€128
Dundrum

French 7 (Contd) (Advanced) (M2)

French art, culture, gastronomy, literature, grammar and conversation. With Teresa Flynn

12
11.10 a.m.
€128
Dundrum

Art Watercolours (M3)

Watercolour is the most exhilarating medium; it is immediate, fresh and versatile. It is practical with no messy clean-up. Enjoy exploring colour in a free and easy atmosphere. With Beatrice Stewart.

12
9.30a.m.
€128
Dundrum

Art Oils/Acrylics (M4)

Acrylic paint can be used light and fluid or thick and opaque. Brushes can be washed with soap and water. Colours remain true. It is the easiest art medium to manage, ideal for beginners and most versatile for the more experienced. With Beatrice Stewart

12
11.10 a.m.
€128
Dundrum

Crafts (M5)

An emphasis on patchwork and quilting. Learn a variety of techniques, make beautiful, useful items for the home or as gifts, employing contemporary and traditional designs. With Laura Butler

12
9.30 am
€128
Dundrum

Enjoying History (M6)

Napoleon. Emperor of France, 1804 - 1814 and briefly in 1815 during the Hundred Days. He dominated European and global affairs while leading France against a series of coalitions in the Napoleonic Wars. Let's explore his life and times, his loves and the man behind the politician. With Frances Browner

12
9.30a.m.
€128
Dundrum

Politics and Current Issues (M7)

Principles and theories of government and decision-making, political values, global and local politics. We examine current and recent events and tease out what they might mean or entail. A lively class. With Michael Carragher

12
11.10 a.m.
€128
Dundrum

Yoga (Mixed Ability) (M8)

Explore and enjoy the benefits of Hatha yoga, in a gentle manner, through breathwork, stretching and relaxation.

12
11.10 a.m
€128
Dundrum

Reading Circle (M9)

We read and discuss novels, plays, stories, poems; contemporary and classical. Student/ Tutor chocies. We will start with Girl, Woman, Other by Beradine Evaristo and Blood Brothers. Do not read beforehand.. With Frances Browner

12
11.10 a.m.
€128
Dundrum

Computers (Contd) (M10)

Create and edit Word documents. Use Excel to create spreadsheets. Manage files and folders. Upload photos, send email attachments. Browse and shop safely on the Internet. (Basic computer skills required). With Miriam McGuirk.

12
9.30a.m.
€128
Dundrum

Computers (M11)

Create and edit Word documents. Use email, upload photos, browse and shop safely on internet. With Miriam McGuirk

12
11.10 a.m.
€128
Dundrum

Traditional Tai-Chi (M12)

The Tai-Chi way to relaxation and health. Ancient exercises to develop calmness and strength. With Charles Thackaberry.

12
9.30a.m.
€128
Dundrum
Course Title
Week
Time
Price
Location

Italian Beginners (Contd) ( T1 )

For those who have completed Term 1 or equivalent. This course builds grammatical and structural basis of Italian language as well as essential vocabulary to communicate. With Dr Chiara Buldorini.

12
9.30a.m.
€128
Dundrum

Italian 2 Elementary (Contd) ( T2 )

For those who have attended at least 20 classes of Italian, a chance to revise/expand vocabulary and build conversation skills. With Dr Chiara Buldorini

12
11.10 a.m.
€128
Dundrum

Italian 4 Upper Intermediate (Contd) ( T3)

The course focuses on advanced grammar, listening and fluency skills. With Dr. Chiara Buldorini

12
1.00pm
€128
Dundrum

( T4 )

Poems, short stories, memoirs or the novel. How to get ideas; how to perfect form; how to write description, dialogue, how to use the five senses show, don't tell, how to proofread, self-edit and how to respond to constructive criticism. With Frances Browner

12
11.10 a.m.
€128
Dundrum

Watercolours / Drawing ( T5 )

Drawing and watercolour techniques and styles covering a broad range of subjects. With Noel Long

12
9.30a.m.
€128
Dundrum

Watercolours / Drawing ( T6 )

Drawing and watercolour techniques and styles covering a broad range of subjects. With Noel Long.

12
11.10 a.m.
€128
Dundrum

Bridge Improvers ( T7 )

For those who have completed one term or equivalent. With Bernie Rountree

12
9.45 a.m.
€128
Dundrum

Bridge Beginners ( T8 )

With Bernie Rountree

12
11.25 a.m.
€128
Dundrum

Bridge Beginners (Contd) ( T9 )

For those who have completed term 1 or equivalent. With Bernie Rountree

12
1.25 pm
€128
Dundrum

Sketching & Drawing ( T10 )

Drawing techniques for beginners or improvers. With Caroline O'Farrell.

12
9.30 a.m.
€128
Dundrum

Computers ( T11 )

-

12
9.30 a.m.
€128
Dundrum
Course Title
Week
Time
Price
Location

Spanish Beginners (Contd) (W1)

The basic tools to get by in Spain. With Maria Fernandez de Luis.

12
9.30 a.m.
€128
Dundrum

Spanish 2 (Contd) (W2)

Build on your basic skills. With Maria Fernandez de Luis.

12
11.10am
€128
Dundrum

German 3 (W3)

For Intermediate German learners, including grammar, reading, translation, conversation and writing exercises using the Studio DA2 course books. With Nadja Murphy.

12
9.30am
€128
Dundrum

German 4 (Contd) (W4)

Advanced German class to improve grammar and vocabulary. General conversation and listening and writing exercises using Sicher Aktull! B2.1. With Nadja Murphy.

12
11.10 a.m.
€128
Dundrum

Geography: The Mother of History (W5)

Why is our industrial history so short and Britain's so long? How do mountains explain why Welsh flourishes and Irish languishes? How did climate change lead to Genghis Khan? Geography: "the mother of history" offers answers. With Michael Carragher

12
11.10 a.m.
€128
Dundrum

Italian 3 Intermediate (Contd) (W6)

For Intermediate level students who have studied Italian for at least 2 years. With Chiara Buldorini.

12
9.30a.m.
€128
Dundrum

Oils (W7)

For all levels. Beginners especially welcome. With Noel long

12
9.30am
€128
Dundrum

Art (W8)

For all mediums. Suitable for all levels of ability. With Noel Long

12
11.10 a.m.
€128
Dundrum
Course Title
Week
Time
Price
Location

Spanish 3 (Contd) (TH1)

Expand your Spanish. With Maria Fernandez de Luis.

12
9.30a.m.
€128
Dundrum

Spanish 4 (TH2)

Practice and perfect your Spanish. With Maria Fernandez de Luis.

12
11.10 a.m.
€128
Dundrum

French 3 (Contd) (TH3)

For those with an adequate knowledge of French. With Teresa Flynn

12
9.30 a.m.
€128
Dundrum

Enjoying English (TH4)

19th Century Classics, contemporary novels and poetry explored and discussed. With Michael Carragher

12
9.30a.m.
€128
Dundrum

Enjoying English (TH5)

19th Century Classics, contemporary novels and poetry explored and discussed. With Michael Carragher.

12
11.10 a.m.
€128
Dundrum

Sketching/Drawing (TH6)

Drawing techniques for beginners and improvers. With Caroline O'Farrell

12
11.10 a.m.
€128
Dundrum

Tai-Chi (TH7)

The Tai-Chi way to relaxation and health. Ancient exercises to develop calmness and strength. With Charles Thackaberry.

12
9.30 a.m.
€128
Dundrum

Gaeilge 1 (TH8)

Suitable for those with some Irish who wish to brush it up. With Mary Fitzgerald.

12
9.30a.m.
€128
Dundrum

Gaeilge 2 (TH9)

Emphasis on conversation. With Mary Fitzgerald

12
11.10 a.m
€128
Dundrum

Philosophy (TH10)

This term we will be dealing with the meaning of life as seen and understood by Philosophers past and present. Challenging, yes, but fun!. With Rory Corvin.

12
11.10 a.m
€128
Dundrum

Pilates (TH11)

Pilates is a physical fitness system designed to improve flexibility, strength and posture. Ideal for beginners or those with some Pilates experience. With Una Whelan

12
11.10 a.m
€128
Dundrum

Photography (Contd) (TH12)

Become more familiar with all basic camera functions and learn to take more creative photos, exploring different types of photography - phones and tablets also included. Upload and edit photos on the computer. Some local field trips are included. With Elma Murray

12
9.30am
€128
Dundrum

Mindfulness (TH13)

Learn what mindfulness is and the benefits of introducing it into your life. Discover specific techniques that will help develop your own mindfulness practice. Course CD included with specific exercises. With Elma Murray.

12
11.10 a.m.
€128
Dundrum
Course Title
Week
Time
Price
Location

French 4 (Contd) (F1)

Conversation class based on current French events and news. (Good level of spoken French essential). With Teresa Flynn.

12
9.30 am
€128
Dundrum

French 5 (Contd) (F2)

Conversation class based on current French events and news. (Good level of spoken French essential). With Teresa Flynn.

12
11.10 am
€128
Dundrum

History & Appreciation of Art (F3)

A really enjoyable introduction to the History of Art: Finding the keys to understanding diverse works of artists and periods through images and discussion in class and gallery visits during term. With Mags Harnett

12
9.30 am
€128
Dundrum

History & Appreciation of Art (F4)

A really enjoyable introduction to the History of Art: Finding the keys to understanding diverse works of artists and periods through images and discussion in class and gallery visits during term. With Mags Harnett

12
11.10 am
€128
Dundrum

Yoga (Beg/Improvers) (F5)

-

12
9.30 am
€128
Dundrum

Tai Chi (F6)

The Tai-Chi way to relaxation and health. Ancient exercises to develop calmness and strength. With Charles Thackaberry

12
11.10 am
€128
Dundrum

Art Group 1 (F7)

Enjoy exploring various subjects and painting techniques. The course will cover professional art techniques and develop visual awareness in a great atmosphere. All mediums welcome. With Beatrice Stewart.

12
9.30 am
€128
Dundrum

Art Group 2 (F8)

Painting and drawing is an activity that can be both learned and enjoyed. Participants will be encouraged to develop their own personal taste and style. Classes suitable for all mediums and levels of ability. Beginners very welcome. With Beatrice Stewart.

12
11.10 am
€128
Dundrum

Writers Group (Beg/Improvers) (F9)

Poetry, short fiction, radio and autobiographical pieces, novel and play writing techniques. With Áine Miller.

12
11.10 am
€128
Dundrum

Italian 5 Advanced (Contd) (F10)

For students who have practiced Italian for at least 4 years. This course spans across themes such as Italian society, customs, and cooking while providing the tools for advanced conversation and production of texts. With Dr Chiara Buldorini.

12
9.30 am
€128
Dundrum

Gaeilge 3 (Contd) (F12)

With Mary Fitzgerald

12
9.30 am
€128
Dundrum

Ciorcal Cainte (F13)

Cúrsaí reatha, ábhair shuimiúla. With Mary Fitzgerald.

12
11.10 am
€128
Dundrum

Italian Expert 6 (Contd) (F11)

The course introduces Italian art, literature, history while providing the tools for advanced conversation and production of text. With Dr Chiara Buldorini

12
11.10 am
€128
Dundrum