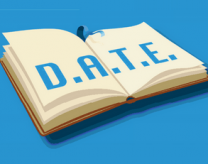 About D.A.T.E.
D.A.T.E. has been providing Adult Education courses in Dundrum since 1984. We are a voluntary committee who work with the Dublin and Dun Laoghaire Education and Training Board to bring a wide variety of classes including French, Spanish, Philosophy, Art, Calligraphy, Yoga, Tai Chi, Creative Writing, Computers and much more. This term we are providing a new Introduction to Mindfulness Course on Tuesdays at 2pm.
Classes are held on the fifth floor of the Dundrum Town Centre in a friendly and inclusive atmosphere. We have a cheerful tea room where students and tutors can meet up in between classes. Because of shortage of space some of our classes are held in Dom Marmion Hall on Sandyford Road.
Enrolling for Spring 2018
Half of the available places on D.A.T.E. courses will be available for online enrolling from:
Monday 8th January at 10am and will run continuously until 10am on Thursday 11th January.
Remaining places may be enrolled in DATE Monday 15th to Friday 19th January 9.30 am – 12 noon.
Those enrolling for Monday classes should attend on Monday 15th January, Tuesday classes on Tuesday 16th January and so on throughout the week.
All classes for 12 weeks. Fee: €128, Seniors (66+) €70 on the production of travel pass. Credit Cards/Debit Cards preferred.
Cheques to be made payable to Dublin & Dun Laoghaire ETB.
Fees will be refunded if class does not form due to required minimum number of students.
Some classes may take place in Dom Marmion Centre, Sandyford Road.
DATE Bridge Club
Dom Marmion Centre, Sandyford Road.
Wednesday: 10.00am – 12.30pm. €6.00 per morning.
Course Title
Week
Time
Price
Location

German Beginners (Contd) (M12)

Nadja Murphy

12
11.15am
€128
Dundrum

Traditional Tai-Chi (M11)

The Tai-Chi way to relaxation and health. Ancient exercises to develop calmness and strength. With Charles Thackaberry.

12
9.30a.m.
€128
Dundrum

French Beginners (Contd) (M10)

The French Experience Book 1. With Kitty O'Sullivan

12
11.10 a.m.
€128
Dundrum

Computers (Contd) (M9)

Create and edit Word documents. Use Excel to create spreadsheets. Manage files and folders. Upload photos, send email attachments. Browse and shop safely on the Internet. (Basic computer knowledge desirable). With Miriam McGuirk.

12
9.30a.m.
€128
Dundrum

Reading Circle (M8)

We shall be reading and discussing novels, plays and poems from contemporary writers and the classics. With Frances Browner.

12
11.15 a.m.
€128
Dundrum

Crafts (M7)

Explore the colourful world of patchwork, appliqué and other exciting craft projects using fabric. With Laura Butler

12
9.30 am
€128
Dundrum

Politics and Current Issues (M13)

This is predominantly a discussion forum.

12
11.10 a.m.
€128
Dundrum

Yoga (Mixed Ability) (M6)

Explore and enjoy the benefits of Hatha yoga, in a gentle manner, through breathwork, stretching and relaxation. With Patricia Crimin

12
11.10 a.m
€128
Dundrum

Enjoying History (M5)

Tudor England, Ireland & Wales, from 1485 - 1603, starting with the succession of Henry VII and including the Elizabethan era during the reign of Elizabeth I – to be a King and wear a crown is more glorious to them that see it than it is a pleasure to them that bear it.

12
9.30a.m.
€128
Dundrum

Art Oils/Acrylics (M4)

Acrylic paint can be used light and fluid or thick and opaque. Brushes can be washed with soap and water. Colours remain true. It is the easiest art medium to manage, ideal for beginners and most versatile for the more experienced. With Beatrice Stewart

12
11.10 a.m.
€128
Dundrum

Art Watercolours (M3)

Watercolour is the most exhilarating medium; it is immediate, fresh and versatile. It is practical with no messy clean-up. Enjoy exploring colour in a free and easy atmosphere. With Beatrice Stewart.

12
9.30a.m.
€128
Dundrum

French 7 (Advanced) (M2)

French art, culture, gastronomy, literature, grammar and conversation. With Teresa Flynn

12
11.10 a.m.
€128
Dundrum

French 6 (M1)

French art, culture, gastronomy, literature, grammar and conversation. With Teresa Flynn

12
9.30a.m.
€128
Dundrum
Course Title
Week
Time
Price
Location

Introduction to Mindfulness (T14)

Learn what mindfulness is and the benefits of introducing it into your life. Discover specific techniques that will help develop your own mindfulness practice. Course CD included with specific exercises. With Elma Murray.

12
2 p.m.
€128
Dundrum

Computers, Tablets & Smart Phones (Intermediate) (T12)

Emails, attachments, files. Popular Apps, security, tips and tricks to provide entertainment while getting your technical knowledge. With Stephen Matthews.

12
11.10 am
€128
Dundrum

Italian 4 (T13)

For upper Intermediate level students. Italian Society, yesterday and today. With Chiara Buldorini.

12
2 p.m.
€128
Dundrum

Computers, Tablets & Smart Phones (Beginners) (Contd) (T11)

Class will cover a mixture of entertainment and technology without corporal punishment. With Stephen Matthews

12
9.30 a.m.
€128
Dundrum

Drawing Workshop (T10)

Learn the basic skills of drawing, combined with an introduction to colour through pencil, acrylic and watercolour. With Caroline O'Farrell.

12
9.30 a.m.
€128
Dundrum

Music Appreciation (T9)

An enjoyable and rewarding course designed to help students gain a greater appreciation and knowledge of the different types of works and styles of music. With Sheila O'Grady.

12
11.10 a.m.
€128
Dundrum

Bridge Beginners (T8)

With Kay O'Kelly

12
12.50 p.m.
€128
Dundrum

Bridge Improvers (T7)

Bridge 2nd term ongoing (revision). With Kay O'Kelly

12
11.15 a.m.
€128
Dundrum

Watercolours / Drawing (T6)

Drawing and watercolour techniques and styles covering a broad range of subjects. With Noel Long.

12
11.10 a.m.
€128
Dundrum

Watercolours / Drawing (T5)

Drawing and watercolour techniques and styles covering a broad range of subjects. With Noel Long

12
9.30a.m.
€128
Dundrum

Writers Group (T4)

Development of the creative voice through exercises and critique: ideas generating support for individual projects. Beginners welcome. With Ursula de Brun.

12
11.10 a.m.
€128
Dundrum

Writers Group (T3)

Short stories, the novel, poetry or memoir. This class aims to help you find and develop your voice. With Ursula De Brun

12
9.30a.m.
€128
Dundrum

Italian 2 (T2)

For those who have some Italian, a chance to revise/expand vocabulary. With Chiara Buldorini

12
11.10 a.m.
€128
Dundrum

Italian 1 Beginners (T1)

For complete beginners. With Chiara Buldorini.

12
9.30a.m.
€128
Dundrum
Course Title
Week
Time
Price
Location

Art Oils (W11)

-

12
11.10 a.m.
€128
Dundrum

Italian 3 (W10)

For Intermediate level students who have studied Italian for at least 2 years. With Chiara Buldorini.

12
9.30a.m.
€105
Dundrum

Mandarin & Culture (W9)

Learn the fascinating Chinese language and culture and communicate in the most popular language in the World. With Deng xiao E.

12
11.10 a.m.
€128
Dundrum

History and Appreciation of Art (W8)

A really enjoyable introduction to the History of Art: Finding the keys to understanding diverse works of artists and periods through images and discussion in class and gallery visits during term. With Mags Harnett

12
11.10 a.m.
€128
Dundrum

Digital Photography for Beginners (W7)

Learn how to use basic settings on your camera, mobile, iPad etc. Take better, more creative photos and have some fun. Upload images to your computer, share with family/friends. Trip during term to take photos.

12
11.15am
€128
Dundrum

German 3 (W6)

Advanced German to improve grammar and vocabulary. General conversation and listening practiced, reading magazine and newspaper articles. Writing of short texts. With Nadja Murphy.

12
11.10 a.m.
€128
Dundrum

German 2 (W5)

For Intermediate German learners, including grammar, reading, translation, conversation and writing. With Nadja Murphy.

12
9.30a.m.
€128
Dundrum

Spanish Beginners (W4)

The basic tools to get by in Spain. With Maria Fernandez de Luis.

12
11.10 a.m.
€128
Dundrum

Spanish 2 (W3)

Build on your basic skills. With Maria Fernandez de Luis.

12
9.30am
€128
Dundrum

Calligraphy (W1)

Learn to use the original pen and write cards beautifully. Materials A4 Paper pad, ruler and pencil & Calligraphy fountain pen set. With Siobhan Campbell

12
11.10 a.m.
€128
Dundrum

Art of Calligraphy (W2)

Create your own individual piece of calligraphy based on simple fonts and colour. With Siobhan Campbell

12
9.30a.m.
€128
Dundrum
Course Title
Week
Time
Price
Location

Pilates (TH12)

Pilates is a physical fitness system designed to improve flexibility, strength and posture. Ideal for beginners or those with some Pilates experience. With Una Whelan

12
11.10 a.m
€128
Dundrum

Tackling Today's Technology (TH11)

Using your P.C tablet and phone to get things done and find out more! Tailored to your interests. With Stephen Matthews

12
9.30 a.m
€128
Dundrum

Philosophy (TH10)

Do 20th and 21st Century Philosophers tackle our real concerns? Let us have fun teasing out the answers these eminent Philosophers give. Challenging, yes, but fun. With Rory Corvin.

12
11.10 a.m
€128
Dundrum

Gaeilge 2 (TH9)

Emphasis on conversation. With Mary Fitzgerald

12
11.10 a.m
€128
Dundrum

Gaeilge 1 (TH8)

Suitable for those with some Irish who wish to brush it up. With Mary Fitzgerald.

12
9.30a.m.
€128
Dundrum

Tai-Chi (TH7)

The Tai-Chi way to relaxation and health. Ancient exercises to develop calmness and strength. With Charles Thackaberry.

12
9.30 a.m.
€128
Dundrum

Sketching/Drawing (TH6)

Drawing techniques for beginners and improvers. With Caroline O'Farrell

12
11.10 a.m.
€128
Dundrum

Enjoying English (TH5)

19th Century Classics, contemporary novels and poetry explored and discussed. With Michael Carragher.

12
11.10 a.m.
€128
Dundrum

Enjoying English (TH4)

19th Century Classics, contemporary novels and poetry explored and discussed. With Michael Carragher

12
9.30a.m.
€128
Dundrum

French 7 (TH3)

For those with an adequate knowledge of French. With Teresa Flynn

12
11.10 a.m.
€128
Dundrum

Spanish 4 (TH2)

Practice and perfect your Spanish. With Maria Fernandez de Luis.

12
11.10 a.m.
€128
Dundrum

Spanish 3 (TH1)

Expand your Spanish. With Maria Fernandez de Luis.

12
9.30a.m.
€128
Dundrum
Course Title
Week
Time
Price
Location

Ciorcal Cainte (F15)

Cúrsaí reatha, ábhair shuimiúla. With Mary Fitzgerald.

12
11.10 am
€128
Dundrum

Gaeilge 3 (F14)

With Mary Fitzgerald

12
9.30 am
€128
Dundrum

French 2 (Contd) (F13)

For those who completed French Beginners. Text: The French Experience Book 1. With Kitty O'Sullivan.

12
11.10 am
€128
Dundrum

Italian 6 (F12)

Italia ieri e oggi. Un viaggio attraverso la letteratura, i costumi, e la storia degli Italiani.

12
11.10 am
€128
Dundrum

Italian 5 (F11)

Italian history, society and art. With Chiara Buldorini.

12
9.30 am
€128
Dundrum

Writers Group (Beg/Improvers) (F10)

Poetry, short fiction, radio and autobiographical pieces, novel and play writing techniques. With Áine Miller.

12
11.10 am
€128
Dundrum

Writers Group (Beg/Improvers) (F9)

Poetry, short fiction, radio and autobiographical pieces, novel and play writing techniques. With Áine Miller.

12
9.30 am
€128
Dundrum

Art Group 2 (F8)

Painting and drawing is an activity that can be both learned and enjoyed. The class will give an opportunity to learn and improve skills while heightening observational powers. Suitable for all mediums and levels of ability. Beginners welcome. With Beatrice Stewart.

12
11.10 am
€128
Dundrum

Art Group 1 (F7)

Enjoy exploring various subjects and painting techniques. The course will cover professional art techniques and develop visual awareness in a great atmosphere. All mediums welcome. With Beatrice Stewart.

12
9.30 am
€128
Dundrum

Yoga (Beg/Improvers) (F6)

Explore & enjoy the benefits of Hatha yoga, in a gentle manner, through breath work, stretching and relaxation. With Patricia Crimin.

12
11.10 am
€128
Dundrum

Yoga (Beg/Improvers) (F5)

Explore & enjoy the benefits of Hatha yoga, in a gentle manner, through breath work, stretching and relaxation. With Patricia Crimin.

12
9.30 am
€128
Dundrum

History & Appreciation of Art (F4)

A really enjoyable introduction to the History of Art: Finding the keys to understanding diverse works of artists and periods through images and discussion in class and gallery visits during term. With Mags Harnett

12
11.10 am
€128
Dundrum

History & Appreciation of Art (F3)

A really enjoyable introduction to the History of Art: Finding the keys to understanding diverse works of artists and periods through images and discussion in class and gallery visits during term. With Mags Harnett

12
9.30 am
€128
Dundrum

French 5 (F2)

Conversation class based on current French events and news. (Good level of spoken French essential). With Teresa Flynn.

12
11.10 am
€120
Dundrum

French 4 (F1)

Conversation class based on current French events and news. (Good level of spoken French essential). With Teresa Flynn.

12
9.30 am
€128
Dundrum