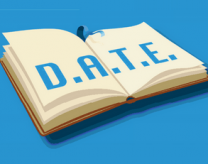 D.A.T.E. SEPTEMBER 2022
We will be back in September 2022 with a variety of classes on offer.
Enrolling will take place online from Monday 12th September
All classes will commence on Monday 26th September. Classes will be for 10 weeks, Duration 1.5 hours. Fee: €100
Classes will include:
Italian Beginners, Intermediate and Advanced levels, Enjoying English, Spanish Beginners, Intermediate and Advanced levels, Tai Chi, Geography – The Mother of History, Gaeilge, Creative Writing, Politics and Current Issues, Various Art Classes, Watercolours, Oils, Drawing, Acrylics
A full Timetable will be available from the first week of September.
D.A.T.E. Committee

---
About D.A.T.E.
D.A.T.E. has been providing Adult Education courses in Dundrum since 1984. We are a voluntary committee who work with Dublin and Dun Laoghaire Education and Training Board to bring a wide variety of classes including, French, Spanish, several Art classes, Philosophy, Tai Chi, Bridge, Yoga, Creative Writing, Gaeilge and Mindfulness.
| Course Title | Week | Time | Price | Location |
| --- | --- | --- | --- | --- |
| Course Title | Week | Time | Price | Location |
| --- | --- | --- | --- | --- |
| Course Title | Week | Time | Price | Location |
| --- | --- | --- | --- | --- |
| Course Title | Week | Time | Price | Location |
| --- | --- | --- | --- | --- |
| Course Title | Week | Time | Price | Location |
| --- | --- | --- | --- | --- |